….. Where summer meets autumn winter meets spring …..
Welcome to Achillion Hotel in Grevena. An elegant, modern and comfortable hotel offers its guests comfortable accommodation all year round. Surrounded by the magnificent Pindos mountain range and just 2 km from the centre of Grevena, Achillion was built to offer its guests a base to explore the outstanding natural beauty of Grevena, Ioannina, Kastoria, Kozani, Larissa, Trikala…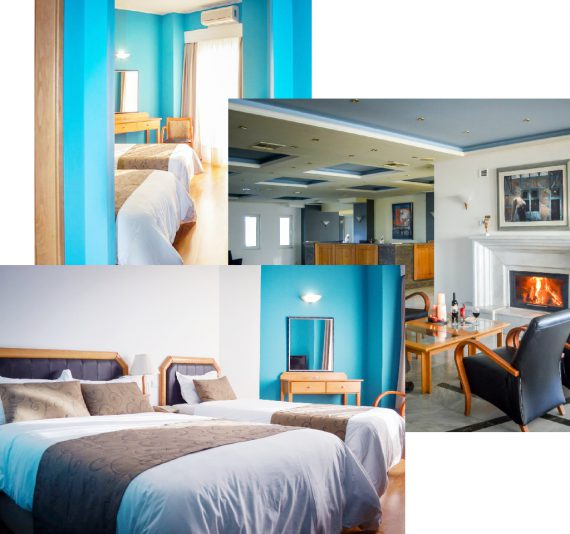 The hotel has 24 double rooms, 8 triple rooms and 2 luxury suites which are air-conditioned, have Wi-Fi internet access and satellite TV.
Their decoration is characterized by high quality furniture which blend harmoniously and complete the pleasant feeling that the visitor feels in combination with the panoramic view from the balcony, at every point of the horizon.
After a comfortable night on our super comfortable mattresses we welcome you to our breakfast buffet, where you can start your day with a rich breakfast with local products and other delicacies.
Δωρεάν στάθμευση

Πισίνα

Εστιατόριο

Bar

Καφετέρια

Πρωινό με μπουφέ
Δύο αίθουσες συνεδριάσεων

Ασύρματη πρόσβαση στο internet (Wi-Fi)

Δορυφορική τηλεόραση

Υπηρεσία δωματίου

Σαλόνια με τζάκια
Achillion restaurant has become a popular dining destination, not only for those staying, but also for the residents of Grevena.
For the special occasions in your life we offer the hotel's rooms which can accommodate up to 630 people (510 + 120), large enough for most weddings, christenings, dances or any other event!
Travel is the only thing you buy, that makes you richer
Wear your swimsuits and come and cool off in our pool enjoying the infinite cold drinks but get ready to dive into infinite new flavors by trying the dishes from our snack bar. But not only that! Are you dreaming of your wedding or your child's ​christening in the summer The ideal place by the pool, waiting for you to make your wish come true!
Relaxation
in the fireplace
Brrrr…Winter and Cold?! Nothing to fear! Inside the hotel there is a cozy lobby with a huge fireplace where you can relax and enjoy the view of the landscape while sipping a hot chocolate or a glass of good wine!